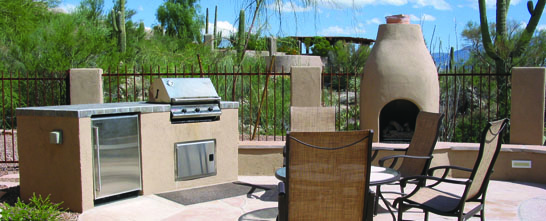 Southern Arizona means outdoor living and outdoor living means outdoor cooking. There's nothing quite like the tastes that you'll create with a quality outdoor grill. Whether you are looking for a complete outdoor kitchen or the latest in grills and Big Green Eggs, we are your "Flame Connection!" We also carry side-burners, stainless steel kitchen drawers & cabinets, outdoor refrigerators and all of the cooking tools you could ever need!
Allow our skilled and experienced design and construction team to build the outdoor kitchen of your dreams. We have it all from complete kitchens to four, five and six foot pre-constructed and ready-to-go kitchen islands.
Stop by our showroom at 2736 N. Campbell Avenue and let us take you on a tour to find the right kitchen design and barbecue appliance for your cooking style.
Take an on-line tour of our gallery now:
Call Flame Connection today at 520-623-0626 for all of your outdoor kitchen questions, barbecue appliances & grills, Big Green Eggs, fireplaces, wood, gas and pellet stoves, gas logs, fire pits, fire tables, chimeneas, outside space heaters, all types of accessories and any service needs.