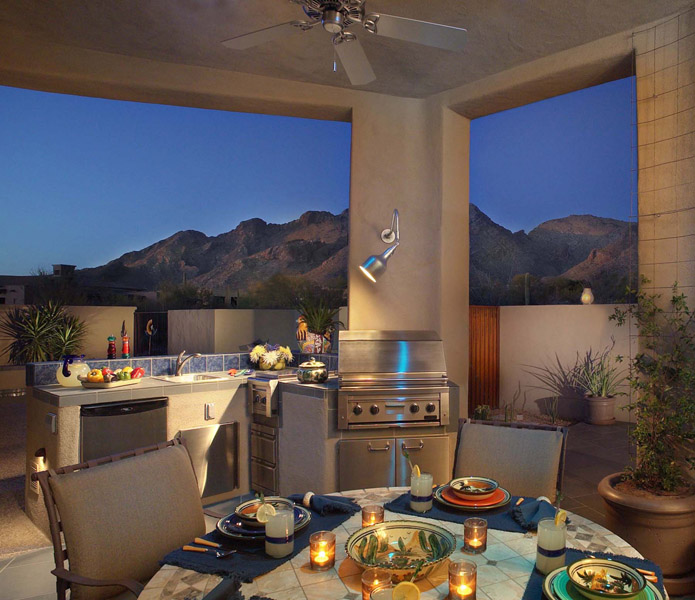 Outdoor Kitchens by Flame Connection
Southern Arizona means outdoor living, and outdoor living means outdoor cooking year-round! There's nothing quite like the tastes that you'll create with your customized outdoor kitchen and grill, and a quality bbq appliance absolutely makes a huge difference.
At Flame Connection, we specialize in designing and building custom outdoor kitchens. Please allow our skilled and experienced design and construction team to build the outdoor kitchen of your dreams. We have it all from complete kitchens to four, five and six foot pre-constructed and ready-to-go kitchen islands. We are not a big box store where you will struggle to find help and won't find a design team. We are locally owned and operated and take pride in customer care.
We feature the highest quality barbeque appliances (grills) and our highly knowledgeable staff will always have the time to find the perfect one for your needs. As for our bbq grills, we believe in quality first. That's why we feature bbq appliances for Delta Heat, Twin Eagle, Alfresco, American Outdoor Grill, Summerset, and Fire Magic. Your custom outdoor kitchen should function at its best and we have chosen these brands for their quality cooking and reliability over time.
We have everything you need for a complete outdoor kitchen: side-burners, stainless steel kitchen drawers and cabinets, outdoor refrigerators, lighting, spices and rubs, and all of the cooking tools you could ever need.
Stop by our showroom at 2736 N. Campbell Avenue and let us take you on a tour to find the right kitchen design and barbecue appliance for your cooking style.
Whether you are looking for a complete outdoor kitchen, or the latest in grills and Big Green Eggs, we invite you to visit our locally owned and operated store on Campbell, just north of Glenn.