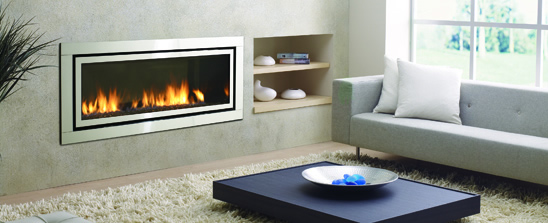 What's not to love about the coziness and warmth that a fireplace brings to any home? If you're looking for the right style and design for your home, please allow our Flame Connection staff the opportunity to show you all that is available…all customized to your needs.
Fireplaces remain one of the most popular amenities for home buyers; they raise the value of your home by more than half the cost of the fireplace.
At Flame Connection we can build your custom fireplace, or you can choose from the top manufacturers that you won't find elsewhere in just one locally owned and operated store. We also specialize in renovation of your current fireplace.
View our Indoor Fireplace Gallery and see what we can do for you!
Fireplaces are available in four different categories:
Wood
Wood is the traditional fireplace fuel. Wood is a renewable resource; sustainable in production that is plentiful in most areas across the U.S. Wood provides a hot fire and enchanting, everlasting patterns of flame and glowing embers.
Gas
A gas fireplace provides very significant advantages that anyone living in today's busy world can appreciate. Gas is convenient, providing a continuous source of fuel and a steady level of heat without any effort from you. Gas fire places are a great source for heating your home. Their beautiful construction will add warmth and coziness to any home, with realistic flames and rosy glowing embers.
Inserts
Inserts are similar to gas fireplaces in many ways. They offer the same benefits and beauty of a gas fire place with distinctive and lasting style.
Electric
Electric units offer many of the same benefits as gas fireplaces where gas is not an option. New innovations in electric fireplaces offer a realistic flame and provide affordable heating.
Call Flame Connection today at 520-623-0626 for all of your outdoor kitchen, barbecue, fireplace, wood, gas, pellet stove, gas logs, fire pit and service needs.