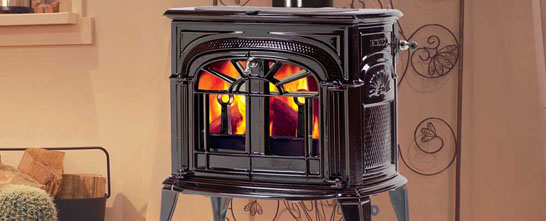 Hearth stoves are an economical, efficient and safe way for you to heat your home in style and comfort. At Flame Connection, our stoves are available in a variety of different styles including pellet, gas, electric and wood burning. They are constructed by the finest stove manufacturers available. Our staff is knowledgeable in all areas of selecting and installing the perfect stove for your home.
There are three types of Hearth Stoves:
Pellet Stoves
Nothing is kinder to the environment than pellets. They are made from recycled wood and burn so cleanly that EPA approval is not necessary. They function automatically via an auger fuel feeding system. Pellet stove fuel is clean, conveniently packaged, and widely available. They provide a steady stream of evenly heated air.
Wood Stoves
Wood stoves can be very economical, while also offering the additional benefits of a beautiful flame, relaxing warmth, and a romantic ambiance. When purchasing wood, you can buy seasoned wood, or you can buy less expensive green wood to split and stack yourself. If you live on a wood lot, and have the time and energy, you can produce your own firewood!
Gas Stoves
It is hard to beat gas for sheer convenience. City dwellers without easy access to cordwood, those living in condominiums or in a home with little storage space, all appreciate the ease of using gas.
Take a peek at our wood, gas & pellet stove gallery
Stove Venting
Chimney
With the exception of vent-free gas hearth products and electric fireplaces, all hearth appliances vent through a masonry or metal chimney.
Direct-Vent
Both gas and pellet appliances can be vented directly through a wall, or through a ceiling or roof. Direct-vent products are sealed combustion appliances that do not use room air from your home. A two pipe venting system carries the burnt fuel gases to the outside, while bringing in fresh outside air for combustion.
Vent-Free
These gas hearth appliances need neither a chimney nor direct vent. However, particular regard must be given to sizing guidelines. These guidelines take into account the geographical region in which you live, the cubic area that you plan to heat and the tightness of the home in which you live.
Call Flame Connection today at 520-623-0626 for all of your outdoor kitchen questions, barbecue appliances & grills, Big Green Eggs, fireplaces, wood, gas and pellet stoves, gas logs, fire pits, fire tables, chimeneas, outside space heaters, all types of accessories and any service needs.